Paul Scarron (1610-60)
Translated by Timothy Adès
Celui qui ci maintenant dort
Fit plus de pitié que d'envie,
Et souffrit mille fois la mort
Avant que de perdre la vie.
Passant, ne fais ici de bruit,
Prends garde qu'aucun ne l'éveille;
Car voici la première nuit
Que le pauvre Scarron sommeille.
A sleepyhead here is laid.
He's less to be envied than pitied,
who a thousand times over was dead
before of his life he was quitted.
So don't make a sound as you pass:
don't waken him, don't molest:
tonight's the first time, alas,
that Scarron has had a good rest.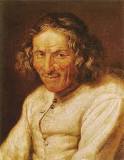 Translation: Copyright © Timothy Adès