2020
Sun 16 Feb Torriano Meeting House, 99 Torriano Ave NW5, the guest poets Nancy Mattson, Mike Bartholomew-Biggs, Róisín Tierney. Start 7.30, floor poets very welcome.
Fri 14 Feb An evening dedicated to love songs and poems on the theme of love – Highgate Society, 10a South Grove, N6. Come to recite, sing or read lyrics or poems of love, or just to come and listen.
Fri 25 September Zoom, Florentino and the Devil, with Claudio Mendoza, 10pm
Wed 7 October Alfonso Reyes, Miracle of Mexico, with Ana Elena Gonzales, 6pm – EventBrite
2019
Sat 23, Sun 24 Nov Bookstall at The Guildhall, Guildford, 10-5pm
Tues 12 Nov, 7.30 at Swedenborg House, 21 Bloomsbury Way, London: launch of Alfonso Reyes, Miracle of Mexico
Mon 21 Oct in Dempsey & Windle showcase, Poetry Cafe, Betterton Street, London 7.30pm
Sun 20 Oct Bookstall at The Great Barn, Ruislip, 10-3pm
Sat 19 Oct Bookstall at Cranleigh Village Hall 10-4pm
Mon 7 Oct main guest poet at The Keep, Castle Street, Guildford, 7.30
Sun 6 Oct among guest poets at Torriano Meeting House, London NW5, 7.30pm
Sat 5 Oct Agenda Poetry 60th year at Art Workers' Guild, 6 Queen Square, London, 7 for 7.30
Sun 22 Sept Bookstall at Lauderdale House, Highgate Hill, London 11-5pm
Sat 14 Sept Bookstall at Henley Town Hall 10-4pm
Saturday 5 October Agenda Poetry Magazine 16th year celebration, Art Workers Guild, Queen Square, London, 7pm.
Saturday 11 May Bookstall at Village Hall, Cranleigh, Surrey, 10-4pm.
Monday 29 April Bookstall at Corn Hall, Cirencester, 10- 4pm.
Sunday 28 April Shakespeare Birthday Bash, Willow Globe, Mid-Wales
Saturday 27 April Bookstall at the Corn Exchange, Witney, 10-4pm.
Sat 6 April 7.30 Guest Poet at Dugdale Theatre, Enfield. Tues 26 March 7pm Black's Club 67 Dean Street Soho.
Sun 24 March 11-5pm Bookstall, Lauderdale House, Highgate, London.
Sat 9 March 10-4pm Bookstall, Winchester Guildhall
15 Jan, 2019 Starry Night of Translator-Poets, Lumen, 88 Tavistock Place
---
2018
15 January, 2018 LOVING BY WILL at Trevor-Roberts School, London, with Eve Pearce
Thursday 1 February, 6.30: Queen's English Society, 11 Chandos Street, London W1: 'The Impossible: Translating Poery with Rhyme & Metre'.
21 February, 2018 Solo reading at Bedford Poetry Society
Sat 28 April Bookstall of Translated Poetry at The Guildhall, Winchester
Friday 18 May at 7.30, Soho Poetry Nights in The Library Club, 121 St Martin's Lane, London, WC2: a brief reading & interview.
Wed 27 June at Collège Français Bilingue de Londres, London NW5.
Fri 9 June Bookstall of Translated Poetry at The Guildhall, Guildford, 10-5pm
Sat 10 June Bookstall of Translated Poetry at Lauderdale House, Highgate Hill, 10-4pm.
1 Sept, 2018 Bardathon at Milton Manor
8 Sept, 2018 Bookstall at The Guildhall, Guildford
9 Sept, 2018 Bookstall at Lauderdale House, Highgate
10 Sept, 2018 All-Party Parliamentary Group for Poetry
22 Sept, 2018 Bookstall, Poetry Book & Mag Fair, Senate House
19 Oct, 2018 Jane Lovell Book Launch, Poetry Café
29 Oct, 2018 Long Poem Magazine Launch, Barbican Library
7 Nov, 2018 South Downs Festival: Midhurst Church
23 & 24 Nov, 2018 Bookstall at The Guildhall, Guildford
1 December, 2018 Ditchling Museum, Sussex: launch of Agenda 1918 Peace & Aftermath
8 Dec, 2018 Bookstall at Borough Hall, Godalming
9 Dec, 2018 Bookstall at Lauderdale House, Highgate
16 December, 2018 'Torriano Locals', 99 Torriano Avenue, London NW5.
---
2017
26 Jan 2017: An Evening with Will: my Shakespeare book: Torriano fundraiser.With distinguished actress EVE PEARCE. 99 Torriano Avenue, London NW5.
5 April 2017: Robert Desnos, l'Homme et le Poète – Lover, Resistant: Cercle Français, The Highgate Society, 10a South Grove, London N6.
22 April 2017: My bookstall at Cranleigh Village Hall
29 April 2017: My bookstall at Salisbury Guildhall
11 June 2017: My bookstall at Highgate, Lauderdale House
Sunday 11 & Tuesday 13 June (afternoons): in 'Pop-up Shakespeare' on the Parkland Walk, north London. Sonnets with and without E.
Wed 21 February, 2018 Solo reading at Bedford
20 June 2017: Eve Pearce joins me for 'An Evening With Will', at Highgate Lit & Sci Institution. Our National Bard's amorous affairs, without omitting A, I, O, or U. At last, all is plain!
22 June: Collège Français Bilingue de Londres (London NW5)
16 September: Bookstall, Winchester Guildhall
29 Sept Desnos & Rhyming Translation: Translation Festival, University of Exeter
30 September: Bookstall, Poetry Book Fair, Conway Hall, London
1 October: Poemathon for refugees, Dugdale Hall, Enfield
Monday 9 October at 1pm, at the Royal Academy, Dawn speaks about her exhibition Dalí/Duchamp. Advisable to book in due course.
14 Oct Bookstall, Witney Town Hall, Oxfordshire
Wednesday 18 October, at 7pm, I present my 527-page book Robert Desnos, Surrealist, Lover, Resistant in the Institut Français, Queensberry Place. His super-exciting poems with my versions alongside.
Sun 22 October: I assemble some Translator-Poets: Highgate Lit & Sci Institution, evening. Drinks & canapés, thanks to Dawn.
6 November: DESNOS at Thousand Monkeys, The Keep, Guildford
18&19 November: Bookstall, Brighton football stadium, Falmer
29 November: I read at the piano recital by Clara Rodríguez in St James's Church, Piccadilly. 7.30pm
9 December: Bookstall, Winchester Guildhall
Tues 12 December: Authors' Club lunch: I speak on Robert Desnos. National Liberal Club, 1 Whitehall Place, SW1.
---
2016
24 November : at the Wheatsheaf, Rathbone Place with Róisín Tierney & others
24 November : Hispanic folklore at Bolívar Hall: Clara Rodríguez piano, Tang Opera Duo. My versions of lyrics for settings by Estévez and Ginastera.
15 November : with Long Poem Magazine at Fitzwilliam College, Cambridge.
9 November : ditto at Barbican Library, London.
6 November : at Torriano, London NW5, with Maggie Butt.
29 October : in Translation Seminar at Torbay Poetry Festival.
18 October : with Agenda poets at Lumen, Tavistock Place, London.
21 September : at Juke Books, Lutyens & Rubinstein, Notting Hill.
26 July : with Modern Poetry in Translation at Shakespeare & Co, Paris.
19 July : with Agenda Poets at Lumen, Tavistock Place, London.
23 June : at Bedford Park Festival.
20 June : at Troubadour, Old Brompton Road, London.
2 June : at Collège Français Bilingue de Londres, NW5.
17 May : Desnos at Thousand Monkeys, Guildford.
16 April : Florentino at St James, Piccadilly with Clara Rodríguez, piano, and Thomas Lyttelton.
15 April : 'Loving by Will' at City of London School for Girls.
24 February : Festschrift for Katherine Gallagher, Kong's College, London.
14 February : Valentines at Torriano: my guests Nancy Mattson, Mike Bartholomew-Biggs, Róisín Tierney.
---
2016 Bookstall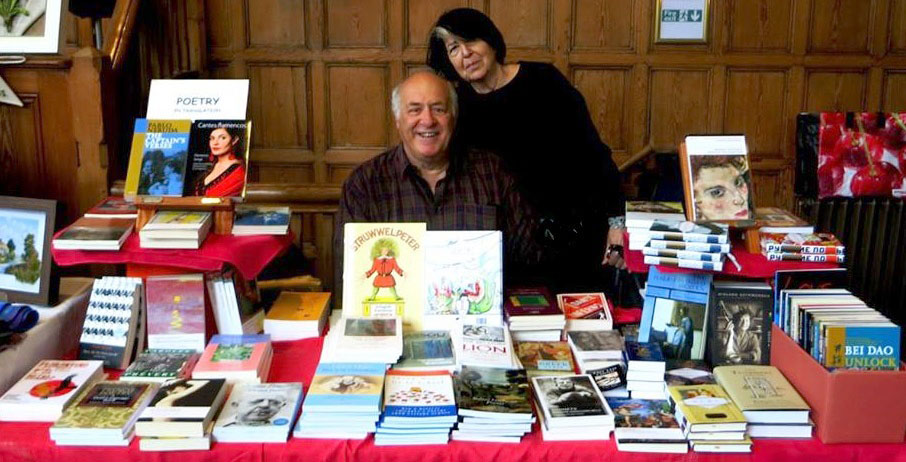 Timothy's bookstall of translated poetry will be at Lauderdale House (Highgate Hill) and other venues on various dates (see below). This is a unique bookstall for poetry in translation. Timothy has a good knowledge of the best translators and publishers. Most of the books have English and foreign texts on facing pages. Prices are keen. You'd never see a display like this in a bookshop! For an idea of the kinds of books availble go to On My Bookstall.
2016
11 Dec – Lauderdale House, Highgate, London

18-19 Nov – Guildhall, Guildford
12-13 Nov – Amex Christmas Fair, Brighton
28-30 Oct – Torbay Poetry Festival, Torbay
15 Oct – Guildhall, Winchester
1 Oct – Guildhall, Guildford
17 Sept – Poetry Book Fair, Conway Hall, London
3 Sept – Guildhall, Guildford
25 June – Borough Hall, Godalming
4 June – Guildhall, Guildford
21 May – Borough Hall, Godalming
30 April – Village Hall, Cranleigh
---
2015
3 Nov: Waterstones, Piccadilly, London, 7pm: hosting Poet in the City Drop–In.
20 Oct: Blackwell's, Broad Street, Oxford, 4pm: Victor Hugo poems.
4 Oct: guest poet with Maggie Butt at the Torriano, 99 Torriano Avenue, London NW5.
30 May: presented 'Storysongs/Chantefables' with Cat Zaza and Sonia Masson at Chantelivre, 13 rue de Sèvres, Paris 6.
21 April: read with Patricia McCarthy and Stuart Medland at Agenda Editions at Lumen, 88 Tavistock Place, London WC1. All proceeds went to shelter the homeless.
25 March: Stanza Bonanza at the Poetry Cafe, Betterton Street.
20 January: read from 'Florentino and the Devil' at Swedenborg Hall in London, with Shearsman poets Sandeep Parmar and Peter Robinson.
Storysongs/Chantefables
Timothy and the talented artist Cat Zaza were at Hatchards in St Pancras Station, at Owl Bookshop, 207 Kentish Town Road, London NW5, and at Claire de Rouen Bookshop, 125 Charing Cross Road. They signed, adorned and recited from their new book, Storysongs/Chantefables, animal whimsies by Robert Desnos.

---
2014 and 2013
Fitzwilliam College, Cambridge
Timothy read with Long Poem Magazine on Thursday 27 November at Fitzwilliam College Cambridge, his poem of 100 lines and one vowel, 'The Excellent Wessex Event (When She Wedded Me)'. An Apparatus Criticus appears with it in the Magazine, no. 11: please see under Lipograms. Also: Robert Desnos 'Ode to Coco'.
Working Men's College
On Sunday 2 November Timothy read with Nick Murray and others at the Working Men's College, London NW1.
Waterstone's, Piccadilly
On Tuesday 7 October, Timothy again hosted Poet in the City's 'Drop–In' at Waterstones, Piccadilly, London. The theme was Writing Materials.
Lumen, Tavistock Place
On Tuesday 17 June, Timothy was guest poet with Lorraine Mariner at Lumen, 88 Tavistock Place WC1. Several floor poets contributed to this very happy evening. The series run by Ruth O'Callaghan aids the homeless who take shelter in this remarkable church.
Poetry–next–the–Sea
On Saturday 10 May 2014, Timothy read with Elaine Feinstein at Poetry–next–the–Sea at Wells, Norfolk. Each had a total of 40 minutes. Timothy responded to the festival's Great War theme and read poems from his books (3 out already, 3 to follow) and then a mixed assortment. His bookstall of translated poetry was open throughout the festival.
Verdict of the Director, Fiona Fraser: "You were such a resounding success!"
Also reading: Andrew Motion, Rowan Williams, Gillian Beer, M R (Meg) Peacocke, Fiona Sampson, Emily Berry, David Harsent, Hugh Cecil.
Poetry and Opera
On 13 March 2014, on Radio Resonance, 'The Opera Hour' covered the current issue of Agenda magazine, 'Poetry and Opera'. Richard Scott was with editor Patricia McCarthy and contributors Eva Salzman, Sorana Santos and Timothy Adès. Please go to https://soundcloud.com/resonance-fm/sets/the-opera-hour and find 13 March 2014. Timothy is on after 15 minutes.
Rhyme and Rhythm
On Friday 28 February, Angela Kirby and Timothy were the guest poets at Sarah Doyle's new 'Rhyme and Rhythm Jazz–Poetry Club' at the Dugdale Centre, Enfield. Poetry backed by top London jazz band Special Edition.
Lauderdale House
On Wednesday 26 February, Timothy read at Lauderdale House, Highgate Hill, London, with the poets Billy Doyle, Paul Birtill, Annwen Evans and Mike Loveday.
Tasting of Bordeaux Wines
On 22 October, at a tasting of Bordeaux wines organised by Poet in the City at Clyde & Co, Timothy's versions of French wine poems were brilliantly read by TV actor Philip Fox.
London Lit Weekend
On 5 October at the London Lit Weekend at Kings Place, Timothy joined Elaine Feinstein and Martyn Crucefix to present: Great Poets in Translation: Tsvetaeva, Rilke, Hugo. Elaine Feinstein is a writer in the front rank, a distinguished novelist, biographer and poet. Martyn Crucefix has won several awards for poetry. This was a repeat of a successful event in May at Waterstone's, Hampstead — now in a bigger venue.
British Library: International Translation Day
Monday 30 September was International Translation Day. At the British Library, London, Timothy was on the Panel for 'When is a Translation not a Translation?' Also on the panel: Angheliki Petrits (European Commission), Isabel del Rio (International Maritime Organisation). Chair: Amanda Hopkinson.
Waterstones, Piccadilly
On Tuesday 6 August at Waterstones, 203–206 Piccadilly, London, Timothy was host at 'Drop–In' (Poet in the City). Theme: HARVEST.
Rodin in Hertfordshire
On 29 June Timothy organised a gathering of forty people in rural Hertfordshire. Readings from Patricia McCarthy's great poetry book Rodin's Shadow, led by Patricia herself, were followed by a visit to the Rodin/Moore exhibition at the Henry Moore Foundation.
Keats House, London
On 26 May, the Keats Festival at Keats House, Keats Grove, London NW3 hosted the Flamingofeather poetry competition: Timothy read his prize poem. The other prizewinners were: Kate Ling, Diana Gittins, John Gohorry, Christopher North, Claudia Daventry (best reading!), Jonathan Edwards, Nick Mahoka, Karen Green. Flamingofeather is a London–based multi–media arts company covering physical theatre, dance and literature. Timothy's poem of 100 lines and one vowel is published in Long Poem magazine no.12, 2014.
Camden Town
On Friday 3 May at Buck Street in Camden Town, corner of Kentish Town Road, London, Timothy was called on at short notice to read for Agenda Poetry Magazine.
Canary Wharf, London
On 19 March, Timothy's translations of French wine poems were read by Geoffrey Streatfield and Rosalie Jorda, at a tasting of French wines held by the Wine Society. Jazz was played and Elizabeth Hannaford's wine–inspired paintings were on the walls. A raffle supported the organisers, Poet in the City. The event took place at the offices of Clifford Chance in Canary Wharf, London E14: great views from the 30th floor.
Black's Club, London
Timothy read from How to be a Grandfather at Black's Club in Soho on 16 February, as part of Victor Hugo: Poetry and Song.
The event was presented by Poet in the City and The Rimbaud and Verlaine Foundation, and featured poems by Hugo set to music by great composers and performed by Ciara Hendrick (mezzo soprano) and Sholto Kynoch (piano). Harry Guest read from The Distance, the Shadows. A packed house enjoyed the fine music and poetry.
Launch of How to be a Grandfather
Timothy presented How to be a Grandfather at:
The Bath Royal Literary & Scientific Institution on 15 March.
Torriano Meeting House on 20 January, as part of a happy and successful occasion with Martina Thomson, whose Panther and Gazelle, translations of Paula Ludwig's poems, was also being issued by Hearing Eye.
The Poetry Society, 22 Betterton Street, London, on 30 January. Here is a review of the event:
On Wednesday 30 January Timothy Adès gave a fascinating account of the life and work of Victor Hugo in general and of his poems in particular.
Timothy in full flow
The evening was very well attended but people are always shy to occupy the first two rows. Though one lady who was the first to arrive, boldly occupied a front row seat, and grabbed the opportunity to have a pre–event chat with Timothy.
It was a very lively evening and we even listened to a recording of a Victor Hugo poem set to music, and we were invited to some audience participation:
I don't know where and I don't know when,
Old Yannick was blowing his chanter and drone.
the rapt audience
Other poems ranged from grandfatherly interference in 'The Pot of Jam', lovely observations of a child in 'Jean Asleep — II':
She sleeps: those eyes will shine when day has dawned.
Clutched in the dark, my finger fills her hand:
to grandpa's childhood frolics neatly illustrated by the poem 'Pepita':
With hairnet and mantilla, so
That rhyme took time to fit her,
After the reading Timothy was kept busy with requests from the audience to sign their newly acquired copy of How to be a Grandfather.
(Report by Bernadette Jansen op de Haar, of Holland Park Press.)
Long Poem Magazine at the Poetry Library
Timothy was at Long Poem Magazine's showcase event on Wednesday 9 January 2013 at the Poetry Library, above the Royal Festival Hall, London, as part of their Special Edition Series. He read his version of 'Romances of Rio de Janeiro' by the great Mexican writer, Alfonso Reyes, which is published in LPM no: 8.
---
2012 and earlier
Agenda Poetry Festival
Timothy shared a Poetry Translators event at the Agenda Poetry Festival with Josephine Balmer and Susan Wicks on Saturday 13 October 2012 at The Old Palace, Mayfield, East Sussex. These historic and beautiful buildings are now part of the St Leonard's–Mayfield Girls' School. Timothy read poems and ran his bookstall, devoting the proceeds to Agenda magazine, with great support from the audience.
From: Lake District Herald, Friday, 2 March 2012
Poetry translations celebration attracts audience of all ages
An event in Keswick which celebrated poetry translation proved a big success as it attracted a near capacity audience on Wednesday.
The idea was the brainchild of local poet and translator Chris Pilling who invited three other acclaimed poets, two women who live in the area who speak French, and pupils from Keswick School.
"A Celebration of Poetry Translations" brought together the translation talents of poets Timothy Adès, from London, Alistair Elliot, from Newcastle, and Peter Rafferty, from Carlisle, along with Chris.
The poets' contributions were complemented by readings of poems in the original language given by French speakers May McEntee and Simone Holmes. The large audience also heard pieces by Irene d'Antonio, Alana Goddard, Marten Hinz, Tom Marshall, Eleanor Price and Josh Williams, who are are studying French at Keswick School.
The event was free but there was a collection box for research into Parkinson's disease.

Timothy read with Patricia McCarthy (editor of Agenda poetry magazine), Will Stone and David Cooke, on Sunday 18 November at the Castle Inn, Castle Street, Cambridge, CB3 0AJ.
Lucy Hamilton and Jane Monson presented their books of prose poems with rhyming translator–poet, Timothy Adès, on Sunday 10 June 2012 at the Castle Inn, Cambridge.
Timothy read at the University of East Anglia on Tuesday 24 April 2012, accompanied by Moniza Alvi, Donald Gardner and Martin Sorrell.
Timothy read with Agenda Poets at Lauderdale House, London N6, on Thursday 9 February at 8pm.
On Thursday 3 November, Timothy gave a seminar, open to all, at the Maison Française in Oxford, 2 Norham Road at 5pm: Rhyming Translator–Poet: Translating the Poetry of Desnos, Cassou and Hugo.
His solo presentation 'Rhyming Translator–Poet' at, and for, the Highgate Literary and Scientific Institution in June 2011 raised hundreds of pounds in admissions and sales of books and magazines.
Timothy has read solo at the Suffolk Poetry Society, the Kent and Sussex Poetry Society, at Mayfield for Agenda, and around London, and has participated in readings at the Universities of East Anglia and Newcastle.
He has appeared three times at the Institut Français, and organised a translator panel at the Torbay Festival, 2009.

At the launch of Long Poem Magazine no.5, at the Barbican Library, London, on Monday
24 January 2011, Timothy read his rhymed version of The Ode to Coco by Robert Desnos, written at the age of 19. He read his version of John Keats by Angelos Sikelianós at the launch of LPM no. 3.
---
Mayor of Enfield's Burns Night, 2010
The Mayor of Enfield, Cllr Jayne Buckland (Lab), is a good friend of poetry. She has founded a Mayor's Prize. She hosted a Burns Night at Capel Manor, Enfield and called for poets to contribute.
Timothy Adès recited in French and English the very short poem Farewell by Apollinaire (see the Poetry Translations page) and sang some of Burns's quite similar poem, Ae Fond Kiss.
The Excitement of Rhyme and Metre
Timothy appeared at 'The Excitement of Rhyme and Metre' in the Uni–Verse international poetry series at the Bath Royal Literary and Scientific Institution on Wednesday 13 October, 2010. You may download a poster of the event (PDF, 473kb).
Here are some appreciations of Timothy's appearances at and en route to Bath:
13 October 2010
"French night at Macfadyen's in Frome on Tuesday was a strange and lovely event, part soirée, part living-room theatre, as Timothy Adès joined hostess Annabelle in offering poésie Française et chansons avec l'accordéon to a small group of fascinated friends. Timothy was en route to BRLSI in Bath, where next day he presented a talk and readings on The Excitement of Rhyme and Metre to the uni–verse group. Timothy translates from several languages, publishing principally his re–interpretations of French and Spanish works, and prides himself that he is a poet in his own right, one who finds metre and rhyme in English to suit the mood and often the form of the original. He specialises too in word–play, lipograms and ingenious rhyming — tenebrous with zebras — as well as sensual love sonnets and the poetry of Resistance in the Second World War. Perhaps because it reminds me of Kavafis's Ithaca, one of my favourites was The Voyage by the beach–comber poet Lámbros Porphýras."
On The Excitement of Rhyme and Metre
at the Bath Royal Literary and Scientific Institution, October 2010
Report by Duncan McGibbon, BRLSI member
On Wednesday 13 October the UNI–VERSE programme welcomed Timothy Adès, who read his finely–wrought translations from the French of Louise Labé, Théophile Gautier, Victor Hugo and a particularly spirited interpretation of the Renaissance poet, Du Bellay's Sonnets on Rome. The remainder of his programme before the break was devoted to two Twentieth Century French poets: Robert Desnos (pronounced Des Noss) and Jean Cassou. While the latter is virtually unknown in this country, Desnos is well–known as a Surrealist and exponent of automatic writing. Timothy Adès revealed a much more thoughtful and lyrical side to Desnos whose poems almost anticipated his death in the Theresienstadt extermination camp. Jean Cassou was imprisoned in Toulouse as a suspected resistant. His metre is traditional — 33 sonnets composed in his head — but his expression is modern. His life experience makes a gripping story.