Francis Combes (1953)
Translated by Timothy Adès


Sur le mur de ma maison j'ai peint un Bacchus
Jeune et beau qui tient une grappe de raisin.
Et tant pis si d'hérésie un savant m'accuse :
Je l'ai, comme Krishna, peint couleur de ciel serein.
Jamais nous ne fermons cette maison à clef.
Portes battantes ; c'est la maison des courants d'air…
Ne contenant pour tout trésor qu'un peu de vin
Pour l'ami qui passe. Elle ne craint pas les voleurs.
Dans les pays de vignoble, on prend garde au vin
On le boit lentement, on le goûte, on le juge,
On boit en connaisseur, critique et tolérant…
Car on sait ce qu'il faut de patience et de temps…

On my house wall is a Bacchus I painted:
Grapes in his hand, he's a young handsome guy.
Scholars may say I'm with heresy tainted:
I made him, like Krishna, as blue as the sky.
This is a house never bolted and boarded,
House of the winds, with its doors open wide.
No fear of thieves, for no treasure is hoarded:
Wine for a friend, nothing else is inside.
Living with vineyards, we take wine in earnest:
Drinking it slowly, we taste and appraise,
Drink with a tolerant careful assessment,
Valuing patience and slow passing days.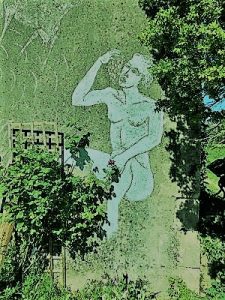 Translation: Copyright © Timothy Adès