Jean Cassou (1897-1986)
From the book The Madness of Amadis (Agendapoetry) – Translated by Timothy Adès

MARS ÉMERVEILLÉ
Quoi? disait ce guerrier, c'est dans mes bras, Vénus,
que tombe ton destin de beauté souveraine:
tes cheveux nonpareils, ta gorge, tes pieds nus
et le trésor marin que tes cuisses detiennent !
Entre tant de servants du nombre universel,
indiscernables chacun de chacun, pourquoi
celui-ci qui ne répond: moi, qu'au seul appel
de lui-même, sans doute aussi dénommé moi ?
Mais, oh! l'obscure voix qui s'aventure ainsi
Sous l'armure pareille aux pareilles armures,
quel enfouissement de fol orgueil parmi
la rigoureuse égalité des morts futurs!
Choix de la foudre! Vol frémissant de la bille
tremblant de prononcer son chiffre, et toi, couteau,
aile d'oiseau de mer, qui sinues et scintilles
sur la vaste étendue des cornes de taureaux !
Mon taureau ! Noir ou blanc, fils du sort, je t'embrasse.
J'embrasse tout destin par la nuit projeté
et, sur l'autel massif de mon thorax, j'enlace
mon propre chef de mes deux bras de fer noués,
attendant qu'à leur place, adorable mystère,
apparaissent, Vénus, tes bras, fleuve de lait
d'amande douce, odeur condensée de lumière,
collier, bouche d'abîme et de suavité.
Loin de m'y engloutir, j'y trouve ma naissance
et le cercle lustral de mes fonts baptismaux.
J'existe par tes cris, tes extases, tes transes
et c'est pour ma saillie que tu jaillis des flots.
Et toi, n'est-ce étonnant que de tant de déesses
et de nymphes des bois, des prairies, des rochers,
ce soit toi qui, sitôt que je dise : maîtresse,
t'encoures sur mon cœur ton visage cacher?
J'écarte tes cheveux, j'écarte tes paupières,
je te regarde jusqu' au fond de ton regard.
Non, je ne connaîtrai jamais d'heure dernière
et dans l'éternité je mets tout notre espoir.

`What!' said the warrior, `Venus, in my arms
your destiny as sovereign beauty lies.
Bare feet, and throat, your hair's unrivalled charms,
and the sea-treasure guarded by your thighs!
Of all the whole world's interchangeable
obedient servants, madam, tell me why
this one, who answers `I' to one sole call:
his own, and that itself is surely `I'.
But, high adventure for this voice, half-heard,
in this plain armour of the armoury!
High pride, in strict equality interred,
plunged among equals who are doomed to die.
Thunder must choose! the bullet's whirring flight
trembles to speak its number, and the blade,
wing of a seabird, sinuously bright,
thrusts through wide horns of bulls its estocade.
Bull of my fate! White, black, in my embrace!
I grasp the fate thrust on me by the night.
On my great breastplate's altar I enlace
my own head, in my two strong arms locked tight,
till in their place, mysterious, marvellous,
Venus, your arms appear, soft stream of milk
of almonds, sweet quintessence luminous,
necklace and mouth abyssal, smooth as silk.
I'm not submerged, but find my birth in this,
find my baptismal springs, my lustral home,
exist in your cries, trances, ecstasies.
To mate with me you spurted from the foam.
Strange that of all those goddesses, divine
nymphs of the woods, the fields, the mountain-crest,
you are the one, when I say: mistress mine,
who runs to hide her forehead in my breast!
I brush aside your lashes and your hair,
gaze deep into the chasms of your gaze.
No, I shall never know a final hour:
I store up all our hope in endless days.'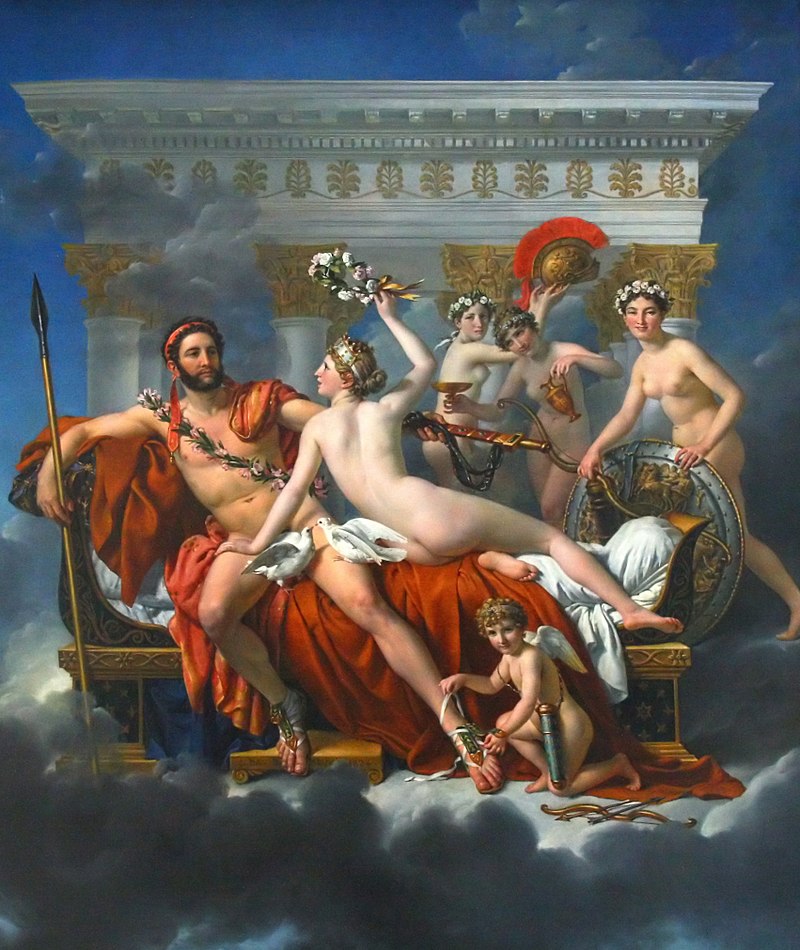 Translation: Copyright © Timothy Adès