Emmy Ball-Hennings (1888-1948)
Translated by Timothy Adès
MEIN JUGENDHIMMEL
Mein Jugendhimmel, eine Glocke aus Glas.
Wir trugen Florentinerhüte.
Auf Kinderhände fiel Kirschenblüte.
Schneeflocken fielen, weich und nass.
Die Berge Jütlands und blaue Heide.
Und in Vaters Hof fielen manchmal die Sterne.
Da erzählte der Seeman von einer Taverne
Und bunten Mädchen in leuchtender Seide.
"Sag, Kleine, willst du mit? Sag ja…"
Matrose gab mir einen Kuss:
"Weil ich noch heute reisen muss…"
Schön sind die Mädchen von Batavia.
My childhood heaven, that glass bell.
Tuscan straw hats on every head.
On little hands pink petals shed;
And soft and wet the snowflakes fell.
Jutland, its purple heaths and hills.
At Father's farm the stars dropped in.
The sailor told us of an inn
And merry girls with silken frills.
'Will you come with me, darling? Please…'
He kissed my cheek, the sailorman.
'Today I go to sea again…'
The lovely girls of Celebes.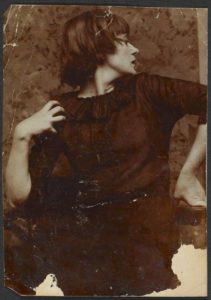 ---
Translation: Copyright © Timothy Adès