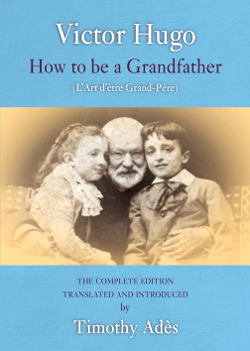 How to be a Grandfather, Victor Hugo, Hearing Eye 2012, the new complete edition:
revised and enlarged
published by Hearing Eye
184 pages
language: English
rhyming text, introduction, lifeline, notes
+ other poems by Hugo
+ Hugo as seen by other poets
Available here
Victor Hugo remains France's greatest poet. In the UK, he is known for his two famous novels; all the rest, including his vast output of wonderful poetry, is largely neglected. L'Art d'être grand-père (1877) was his last book of poetry, at a time when he had lost almost all his family except two young grandchildren. His musings on childhood, old age, politics, history, the natural and animal kingdoms, are poured into these poems with a torrential energy.
Appended are Hugo's epic accounts of the great Napoleonic disasters: Moscow, Waterloo and St Helena.
"This is great poetry of childhood – but simultaneously, and not coincidentally, it is among the finest poetry of old age…" – Acumen
"The fact that the poems speak to me in such a timeless, warm and engaging way, that they illuminate Hugo the man so favourably, is entirely due to your luminous translations." – Maggie Butt
---
Spring Memories
In the dew she ran noiseless,
Not to wake me from night:
I opened no glass, lest
She start and take flight.
Pure dawn! My sons' laughter,
Cool cradles and harmony,
My children and Nature,
The birds and my family.
I coughed, she grew bolder,
And skipped up, neat-paced;
She said, like one older,
"The children are dressed."
Contented or troubled,
My heart was my fay's,
Well–coiffed or dishevelled,
Lodestar of my gaze.
We played until sunset,
Sweet sport, charming chatter!
At dusk she, the eldest,
Used to tell me, "Come, father:
We'll bring up your chair, you
Can tell us a story"
Their eyes were ethereal,
A radiant glory.
So I'd make up a romance
Of mayhem and murders,
Found heroes and humans
In the ceiling's deep shadows.
They cackled and snorted!
It's such a good joke:
Big dunderheads, thwarted
By quick little folk.